Kosmo Wojack, Soccer Player, Mililani Hawaii
---
Game Day Photos from Waipio Peninsula Soccer Park, April, 2015
---
Kosmo Wojack, Surf Soccer Club Hawaii, April 2015 Game at Waipio Soccer Park
---
Kosmo Wojack, Surf Soccer Club Hawaii, April 2015 Game at Waipio Soccer Park
---
Kosmo Wojack, Surf Soccer Club Hawaii, April 2015 Game at Waipio Soccer Park
---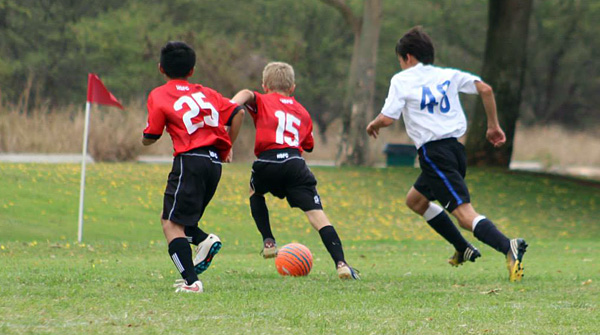 Kosmo Wojack, Surf Soccer Club Hawaii, April 2015 Game at Waipio Soccer Park
---
Kosmo Wojack, Surf Soccer Club Hawaii, April 2015 Game at Waipio Soccer Park
---
Kosmo Wojack, Surf Soccer Club Hawaii, April 2015 Game at Waipio Soccer Park
---
November, 2014
Kosmo Wojack (my son), joined Surf Soccer Club Hawaii in November, 2014 at age twelve. The first couple months was an adjustment for him especially after playing AYSO for 8 years starting from when he was 4 years old. Kosmo also only had me, his Dad, as his coach prior to joining Surf. Thankfully after a few months of training and a couple games he found his confidence on the field. I remember it was the 3rd or 4th game that he scored his first goal in the HYSA Oahu League. Once he found his confidence he then consistently scored a goal or 2 in just about ever game thereafter.
---
First HYSA ID photo... looks like he had a really bad day, but this was just his tough guy look.
---
This photo might have been a better... if he didn't look so overly nice.
---
New 2016 ID photo.. I'm not nice, I'm not mean, I'm just serious about my soccer.
---
Portland Timbers Soccer Camp, October, 2014
---
Brant, Kosmo, and Rhea, family practice at Kaiaka Park, North Shore Hawaii
---
First U10 boys select team for Kosmo, AYSO North Shore Region 289, coaches: Brant Wojack, Dean Ganon, and Jeff Cicatko
---
First U12 boys select team for Kosmo, AYSO Mililani Region 119